I was cursed with the inability to consume coffee. It's a curse because I love coffee, but it makes me feel like shit. The high volume of caffeine turns me into an anxious, nauseas, shaky mess. For a while, I would drink it anyway. Like an addict who knows what they're doing will make them feel worse in the long term, but lives for the momentary high. However, as someone who already has anxiety while uncaffeinated, coffee wasn't doing me any good. I eventually resigned to the fact that the delicious, chocolatey drink wasn't for me, and looked for an alternative. And that is how I became a chai tea junkie.
Creating a great chai tea latte is a delicate art. Add too much milk, and it becomes bland. Too little, and it's bitter. My golden standard exists at a cafe in my hometown of Warwick, which makes the perfectly sweet, rich, cinnamony chai. Since moving, I've been on the pursuit of something that can compare. I haven't found it yet, but I have found some chai lattes that are pretty good. Below is a ranking of the chai lattes in my immediate vicinity in Bushwick: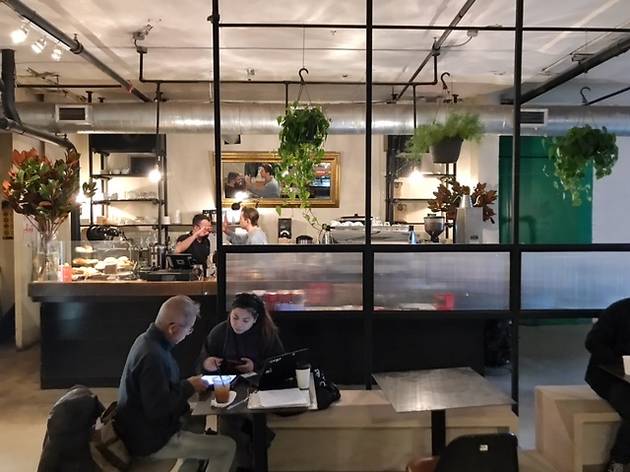 Kave Espresso Bar. 6/10.
119 Knickerbocker Ave
Kave is the coffee shop I frequent most. Not because their chai is great (it's fine), but because it's the closest and has the most seating. Their chai is okay, albeit pricey (I get it with vanilla syrup because the plain one is often too watery). A vanilla chai with oat milk costs $6.50 there, which is pricey, considering the chai tea I get from Warwick that is twice the size is a few dollars cheaper.
Sey Coffee. 8/10.
18 Grattan Street.
Sey, thus far, holds the metal for my favorite chai in Bushwick (or, rather, Morganville, because I haven't tried all the chai lattes in Bushwick). A chai tea with oat milk comes in at a flat $5, which I can justify because they give it to you on a ~fancy~ wooden platter with a glass of sparkling water (so Brooklyn). The only downside of Sey is that it's always packed to the brim, so if your plan is to stay for a while and do some work, you're out of luck. Also, their seating is mostly high top stools, so it's not the most comfortable setup. So, I would give their actual coffee shop at 5/10, but since their chai is decent, we're going with 8/10.

Swallow Cafe. 3/10.
49 Bogart Street.
I had really high hopes for this cafe, because the exterior is so cool. It's right next to Sey, which was my go-to for a while, so I decided to branch out and give it a try. Clearly, I was disappointed. First off, this cafe is cash only, with no ATM inside, which is extremely inconvenient for someone who isn't a server or a stripper (who else always carries cash on them?). Secondly, when I ordered my (way overpriced) chai latte, they made a show of dramatically pouring the milk over a strainer full of loose leaf chai right in front of me. My eyes nearly rolled out of my head. Additionally, there were little remnants of chai leaves floating around in my tea, which were unpleasant to drink. If you are looking for an authentic, spicy chai, you may enjoy this, but as someone looking for a sweet, creamy chai latte, this was the first and last time I would be going to Swallow.
Toby's Estate. 7/10.
8 Wilson Ave.
I recently stumbled upon Toby's, which has locations all over the city. I'm glad I did, because it's almost everything I look for in a cafe. There is always plenty of seating available (which may not be a good sign for the business, but I love having my choice of where to sit). The chai tea is good, although not quite Warwick standard. It's comparable to Kave's chai tea, but cheaper, which is why it has an extra point. If I want to buckle down and get some serious work done, this is where I would go. Also, last time I was there, they exclusively played Dolly Parton originals and covers, and I didn't hate it?
Bake Shop. 5/10.
995 Flushing Ave.
I'm currently writing this article from Bake Shop, but only because Kave's wifi is down, Sey was packed, and Toby's is closed for renovation. So that should give you a bit of a hint about their ranking. Bake Shop is the most Brooklyn of all the coffee shops, with its eclectic design, abundance of plants, and intensely hipster patrons. If you're looking for a delicious slice of chocolate cake or a vegan treat, I would recommend going here. They have a large selection of baked goods that are worth the pretty penny that they cost. However, their chai doesn't hold up to that standard. I go here when I have a sweet tooth, although it's often too crowded to sit anyway.
There you have it! I'm still in search of that golden 10/10 chai latte, but until Bushwick opens up another cafe nearby, it looks like I will have to expand my horizons.